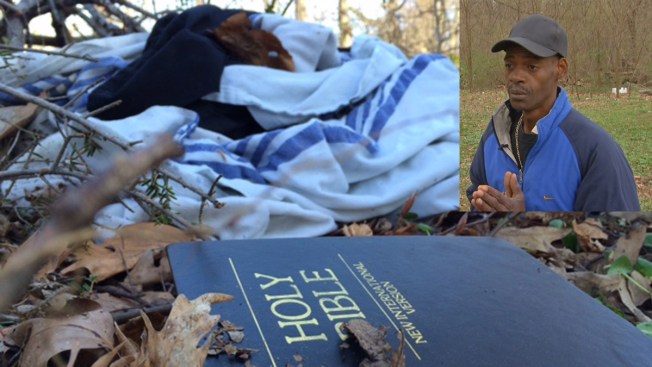 The Good Samaritan who police say saved the life of a quadriplegic man abandoned for days in a Philadelphia park is speaking out for the first time.
Fitzroy Anderson, a 55-year-old custodian at Mercy Fitzgerald Hospital, says he's been riding his bike near Cobbs Creek Park since he was 14-years-old. It was his bike ride Friday night however that would change his life forever.
Anderson was at the park near Catharine Street around 9 p.m. Friday. He decided to go deeper into the woods because he saw two deer and wanted to take a picture of them for his grandchildren.
As Anderson followed the animals he spotted an empty wheelchair.
"Soon as they saw me they took off right down the creek so I followed them," he said. "That's when I stumbled on the wheelchair."
Anderson then spotted something, or someone, bundled tightly in a blanket in an area littered with trash, only footsteps away from the wheelchair.
"I jumped and I said, 'Oh! Oh my God!'" he said. "I kept walking and something kept puzzling me."
Anderson began to walk away but couldn't forget what he just saw.
"Two of the branches caught my eyes," he said. "It was a cross."
Anderson called his step-daughter and the two notified authorities. They then led police back to who he found, the 21-year-old quadriplegic son of Nyia Parler, who police say dumped him in the area only five days prior.
"They found about 100 yards off the roadway here, laying in leaves," said Philadelphia Police Lt. John Walker. "He's got a blanket over him and a Bible on his chest."
Rescuers took the man to the Children's Hospital of Philadelphia where he was treated for a cut on his back, dehydration, malnutrition and exposure to the weather, police said. He is currently in stable condition.
"When the rescue guy came and they opened the package I remember there was a Bible on top of him," Anderson said. "I never saw his face. After I saw the Bible I walked away and came right back up to this spot."
Anderson was overwhelmed with emotion after the shocking discovery.
"I walked home with tears in my eyes all the way home," Anderson said.
Police believe the man would have died if not for Anderson. Anderson gives credit to God however.
"God got a lot to do with it," he said. "If it wasn't for those two deer and God, that young man wouldn't be alive today."
Read more: http://www.nbcphiladelphia.com/news/local/Good-Samaritan-Fitzroy-Anderson-Quadriplegic-Abandoned-Nyia-Parler-299744281.html#ixzz3XJpxGM4A
Follow us: @nbcphiladelphia on Twitter | nbcphiladelphia on Facebook